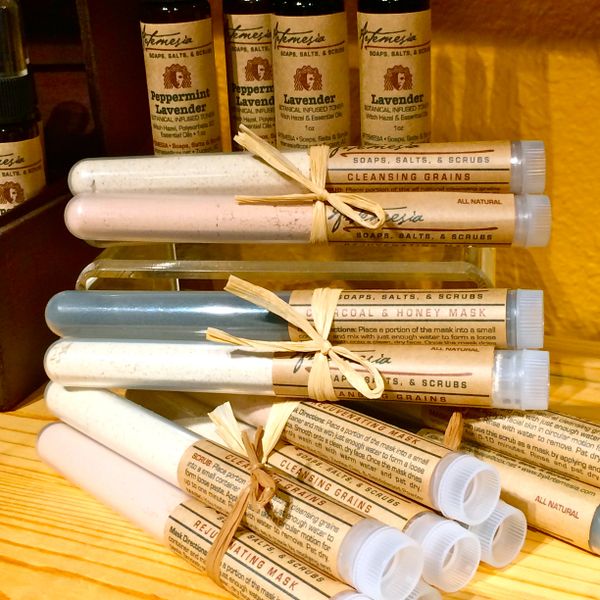 Charcoal & Honey Mask— charcoal & clay are known for drawing out impurities, while the honey rejuvenates and hydrates the skin.

Charcoal— helps draw out toxins and detoxifies

Honey—a humectant with the ability to attract and retain moisture

Australian Washed Blue Clay—regulates sebum flow and dissolves impurities on the skin

 




Rejuvenation Mask— leaves the skin feeling stimulated and revitalized
Moroccan Clay— stimulate circulation & draws out excessive oil
Zeolite Clay—  absorbs and neutralizes toxins
Sandalwood—  skin repairing, known to increase circulation
Our dry masks can be customized for all skin types by the activator you choose. For instance, coconut milk is a great hydrator for dry skin, while citrus juices are great for oily skin. Another benefit to dry masks are they have a long shelf life and are preservative free. Each tube have enough to make 4-6 masks.

DIRECTIONS
1.Combine 2 parts mask to 1 part liquid. See suggested activators—
Use water, coffee or tea for oily to normal skin
Milk or cream for normal to dry skin
Pineapple juice is a great natural exfoliate
Add a drop of jojoba— good for all skin types
2. Apply mask to clean damp skin.
3. Start at the neck and apply in a upward motion. Avoid the eye area.
4. Allow the mask to stay on at least 20 minutes.
5. Wash the mask off with warm water.
6. Rinse with cool water to close pores, then tone and moisturize.